About Pegasus Biotech

Pegasus Biotech was founded in November, 2019 by three senior scientific leaders from Elanco's Victoria PEI R&D site. Our laboratory services are headquartered at the Duffy Research Center (NRC-Canada) in Charlottetown, PEI.
Pegasus Biotech Inc. is an agile biotech company focused in providing high quality vaccine (DNA, autogenous, rProtein) development services to the animal health sector as well as developing accurate and reliable analytical testing methods for the human and animal health industry.
Our Vision: At Pegasus Biotech, we strive to be the premier biotechnology CRO and consultancy in North America.
Pegasus Biotech is comprised of a team of scientists who are experts in the fields of biotechnology, immunology, virology, molecular biology and cell biology. Combined areas of expertise include cell culture/fermentation and purification process development, analytical assay development, veterinary biologic product development and regulatory submission (EMA, CFIA, FDA, USDA), point-of-care and clinical diagnostic instrument and assay development, GLP/GMP lab quality standards and HSE.
Our Facilities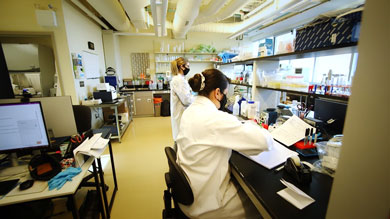 Pegasus Biotech takes pride in its world-class facilities that are equipped with cutting-edge technologies and staffed by highly skilled scientists from a variety of backgrounds. Our laboratories are located in PEI Canada, at the heart of one of North America's premier biotechnology clusters - an ideal location for our contract research organization.
Pegasus's main operations are housed in the Regis & Joan Duffy Research Centre, where we maintain two independent, secure CL1/CL2 labs. These labs contain state of the art scientific equipment that enables us to provide a broad spectrum of advanced process and analytical development services to our clients. Additionally, we maintain a third lab in Victoria PEI that features larger scale fermentation capabilities within a world-class CL2 research facility.
At Pegasus Biotech, we prioritize the quality of our services, which is why we manage both of our facilities under a robust, externally audited QMS system. This system ensures that we maintain the highest quality services for our clients, without compromising safety, precision, or accuracy.
We take pride in our team of world-class scientists who have diverse scientific backgrounds with specialities in molecular biology, virology, immunology, biochemical engineering, and biochemistry. This team is committed to providing exceptional service and support to our clients, ensuring that their research projects are successful.
For more information about our services, please visit our website or click on the link below. We offer a range of services, including process development, analytical development, fermentation, purification, and more. Our services are tailored to meet the unique needs of our clients, and we work closely with each one to successfully advance their products to market.